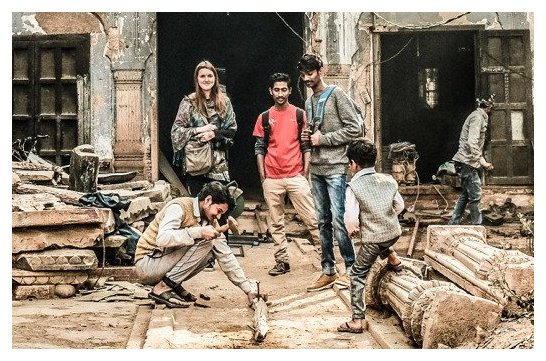 We believe that there are parallels between our guides and the old city.  Both are about stories of survival, sometimes against the odds.
We are building on the successful model of Salaam Baalak Trust's City Walk, The guides work part-time, leading walks in the mornings and continuing their education or training in the afternoons.
Lalit, who is originally from Sitapur near Lucknow, joined Street Connections as a salaried trainee guides in October 2014, which helped enable him to move out of SBT's shelter home and start an independent life.  His passion is theatre, and performing in a play gave him the opportunity to join 5 other SBT beneficiaries in Glasgow in the summer of 2014 to represent India in a youth theatre festival coinciding with the Commonwealth Games.
Khursheed currently combines his work as a guide with study: he is doing a diploma course in visual effects as well as studying through correspondence for his degree.  His main interest is in film-making and he has been working on documentary and other short films.  As an actor, he also went to Glasgow in 2014, together with Lalit, and then again in 2016.
Sanju was born and grew up in Old Delhi, in the sprawling slum along the river.  He came to SBT when a demolition drive in 2004 forced tens of thousands of poor families into even worse conditions on the margins of the city.  Between leaving SBT and joining Street Connections, Sanju was part of another excellent local NGO, LP4Y. He is keen to give back to society through social work after completing his studies.
You can hear lots more about their lives if you join us on the walk…